KEVIN JAMISONFIRST APPEARANCE:
October 1972
LAST APPEARANCE:
December 4, 1978
PERFORMERS:
Richard Shoberg
(October 1972 - April 1975)
John Driver
(April 1975 - December 1978).
EXIT:
Killed in a car crash.
SPOUSES:
Phoebe Smith (1976). Raven Alexander (1977-78).
RELATIVES:
Elly Jo Jamison, RIP (sister). Bill Marceau (father-in-law). Martha Marceau (mother-in-law). Nadine Alexander (mother-in-law). Geraldine Whitney ("surrogate" mother). Julie Jamison (aunt, RIP).
OCCUPATION:
Newspaper reporter and potential Congressman.
---
Kevin followed his sister Elly Jo to Monticello in October 1972. Due to a past stint in prison, he found getting a job and starting a new life difficult. In December 1972, he and friend Paulie planned to rob Claybank, the ancestral home of the wealthy Hillyer family, for whom Elly Jo worked. When the pair were caught in the act, Elly Jo convinced Orin that Kevin was there on a visit with her and tried to stop the crime. A grateful Orin used his influence with Joe Pollock to get Kevin a cub reporter's job at The Monticello News. In the meantime, Kevin met and dated Chief Bill Marceau's daughter Phoebe, though their relationship was initially off-and-on due to the arrival of Ashley Reynolds, Phoebe's former lover.

In the summer of 1973, Kevin became embroiled in a mystery surrounding Jake Berman, a Monticello attorney obsessed with Nicole Drake. Private investigator Joel Gantry, investigating the suicide of Jake's late wife Edith, hired Kevin to research Jake's past. When Jake discovered Kevin digging into his personal life, he managed to get Kevin fired from the newspaper. Joel quickly hired Kevin to assist him in his detective agency, and he was happy to comply upon learning that Joel had been hired by Kay Reynolds to prove her husband Ashley, Phoebe's lover, was a womanizer for their divorce suit. It was Kevin who provided Joel with an alibi when Jake was murdered in July 1973. The two had been together spying on Ashley's motel room at 7:30 when Jake had allegedly been shot by rival Adam Drake.

Following Jake's death and Joel's relocation away from Monticello, Kevin was rehired by The Monticello News to work as a reporter. He covered Adam Drake's trial, and when Adam's conviction appeared certain, Kevin decided track down Joel, whom he believed might have evidence from the wiretapping of Jake's apartment during the Edith Berman case. Kevin and Phoebe flew to San Francisco, where Joel now lived, and appealed to him to hand over any evidence that might clear Adam. There, Kevin saw photos taken at Ashley's hotel room the night of the murder and noticed a discrepancy. A clock in the room showed the time as 7:58, 28 minutes after Jake's murder. Kevin realized that Joel had deliberately re-set the time on his watch to provide himself with an alibi. Joel's motive soon became clear when his "girlfriend" Lucy Wilson admitted that she was actually his sister, and Jake Berman had been their stepfather. Kevin confronted Joel, who took him to a deserted cemetery and forced him at gunpoint to dig his own grave. Although shot by Joel, Kevin was not seriously injured.

In early 1974, Geraldine Whitney, who had recently returned to Monticello, met Kevin through his job at the newspaper, where he had been assigned to cover the senatorial campaign of Adam Drake. Geraldine noted Kevin's resemblance to her late son Keith, and offered to sponsor him. Phoebe and Tiffany Whitney, Geraldine's daughter in law, soon noticed Geraldine's swiftly escalating obsession with Kevin. Tiffany confronted her mother-in-law, adding that in her grief over losing two sons, Geraldine was attempting to replace her dead family by recreating Colin and Keith in Adam and Kevin. However, Geraldine managed to manipulate Kevin into living at the Whitney mansion during a bout with the flu and advised him about his career choices when he began investigating organized crime, which had infiltrated Monticello. Phoebe became so concerned by Geraldine's possessive behavior that she issued Kevin an ultimatum: move out of the Whitney mansion or she would end their relationship. Kevin decided to comply, until Adam was nearly killed by a bomb detonated to end his political career. Geraldine used the incident to convince Kevin to stay with her.

Near the end of the year, Kevin received the gun used to kill Taffy Sims, a crime for which Phoebe's mother faced a murder trial. Geraldine, still unhappy with Kevin's lowly reporter's job, as well as his engagement to Phoebe, decided to intervene. She arranged for Kevin to receive a promotion to an international crime correspondent, which would take him away from Monticello -and Phoebe- for great lengths of time, and named him as the sole heir to her fortune. She used this to convince Phoebe to postpone marriage to Kevin as it would interfere with his new job, and Geraldine would disinherit him. However, Kevin found out and planned to go ahead with his planned June wedding, which Geraldine managed to prevent again by faking a heart attack.

Richard Shoberg as Kevin Jamison (1972-75).

---
In September 1975, Kevin discovered that Geraldine had faked two heart attacks and seemingly irrevocably damaged his relationship with Phoebe. He vowed to leave the Whitney mansion and never see her again. Stunned, Geraldine phoned Adam, informing him that she intended to change her will. Before the meeting could occur, Kevin discovered Geraldine at the bottom of the staircase. Although the fall appeared accidental, it was later determined to have been the result of an attack. Gathering very damning circumstantial evidence, Lt. Luke Chandler urged Bill Marceau to arrest Kevin on suspicion of attempted murder. Meanwhile, in order to find a cure for Geraldine's comatose state, Tiffany sent Kevin to Paris where a patient similar to Geraldine had been successfully revived, though suffered from amnesia. Kevin was stunned to discover that the patient was Nicole Travis Drake, Adam's wife who been presumed drowned since May 1974. Kevin brought Nicole back to Monticello.

Early in 1976, he was cleared of Geraldine's attempted murder when she regained consciousness and named her attacker as Noel Douglas, who had set about to frame Kevin for the crime. In April, Kevin and Phoebe were finally married. Geraldine, still recovering from her fall, convinced them to stay in the Whitney mansion during her long convalescence, but they moved into a small apartment of their own at the end of the summer. Sadly, that November, Phoebe was murdered by Clay Jordan, a member of the mob who posed as a doctor and had claimed responsibility for healing Geraldine. A grieving Kevin allowed Geraldine to move him back into the Whitney mansion and was susceptible to her eager plans for uniting him with Raven Alexander, the alluring daughter of her good friend Nadine Scott.

Throughout most of 1977, Kevin experienced a rocky courtship with Raven, who two-timed him with assistant district attorney Logan Swift, while continuing to report the major crimes in Monticello: Adam Drake's shocking murder and Mike Karr's trial for the murder of Beau Richardson. Just before his wedding to Raven in November, Kevin to be sterile by family physician Hugh Lacy. Kevin shared the news with Geraldine, who convinced him that he shouldn't tell Raven, since she wasn't interested in having children. In reality, Geraldine feared that Raven would see Kevin as less a man and wouldn't go through with the wedding she had worked so hard to orchestrate. This secret would prove to have fatal consequences the following year.

Despite a new marriage, Raven's interest in Logan did not wane, and her relationship with Kevin was on tenterhooks when he chose to expose two Crime Commission members as criminals and was fired. In April, Raven discovered that she was pregnant by Logan. Geraldine arranged a secret New York abortion, but Raven was too far along to terminate. She was forced to admit the truth to Kevin, though she claimed that the pregnancy was the result of a drunken one-night stand with someone he didn't know. Furious, Kevin walked out on her. He soon returned, though, promising to play the proud father in order to save his political career.

However, in September, he accidentally overheard a quarrel between Raven and Draper in which she admitted that Logan fathered her baby. The revelation sent Kevin into tailspin. He first considered a Samurai suicide then began drinking heavily. In December, a restless Raven attempted to seduce Draper. When he rejected her, she had a sudden pain and fled, claiming that she was going to catch a plane to London to see her mother. Worried that she might be going into labor, Draper phoned Kevin. Despite all she had done to him, Kevin still loved her. He borrowed Draper's car and rushed to the airport to stop Raven from leaving. Speeding, he lost control, drove the car off a cliff, and died instantly.

---
John Driver as Kevin Jamison (1975-78).

---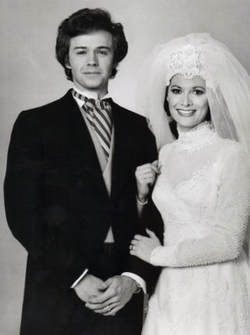 Kevin Jamison (John Driver) and Raven Alexander (Sharon Gabet) wedding photo. November 1977.

---