ELLY JO JAMISONFIRST APPEARANCE:
August 15, 1972
LAST APPEARANCE:
May 3, 1973
PERFORMER:

Dorothy Lyman

EXIT:
Died after leaping from a speeding car.
RELATIVES:
Kevin Jamison (brother). Julie Jamison (aunt, RIP).
LOVERS:
Lenny Small.
---
Elly Jo arrived in Monticello from Pensacola, Florida, where her brother Kevin had been stationed in the military. She came under the guise of helping Orin recuperate from his injuries sustained in a private plane crash that also took the life of his beloved wife Julie. However, Elly Jo had an ulterior motive. She was more interested in becoming Orin's new wife. She exploited his grief and obsession with losing Julie in order to get closer to him. Meanwhile, she began a secret affair with Orin's handsome chauffeur Leonard Small.

In December 1972, Orin caught Lenny attempting to make love to Elly Jo, and suffered a heart attack. Elly convinced him that Lenny had forced himself on her, though to save his job, admitted that her kind attention toward him had given him the wrong idea. Orin's heart attack prompted his daughter Liz and son-in-law Jim Fields to move into Claybank, the family's ancestral home. Liz harbored a deep mistrust of Elly Jo's motives, and the two clashed often, particularly after Orin changed his will, naming Elly Jo third in line to his fortune, just after Liz and her unborn child. Simon Jessup, a psychic researcher who claimed to have visions of the accident that took Julie's life, hoped to benefit fro Orin, as well. He goaded Elly Jo into a murderous hatred of Liz, arguing that she was an ingrate standing in the way of all Elly's hopes and dreams. Although fearful of retribution, Elly Jo went along with Jessup's plan to kill Liz and her baby in a fatal fall down the staircase at Claybank, the result of a loosened stair railing. However, the plan went awry, and it was Orin's loyal butler John who fell instead.

Later, Elly Jo agreed to give Jessup one third of her inheritance after he concocted a foolproof plan to murder Liz without them being caught. In February 1973, Elly Jo secretly began slipping amphetamines into Liz's drinks. When Liz complained of the ensuing insomnia, Elly Jo subtly suggested to Orin that Jessup might cure Liz with simple hypnosis, since drugs could harm her baby. At Orin's prompting, Liz agreed to undergo hypnosis, though she kept her sessions a secret from Jim. During the sessions, Jessup showed Liz a series of calming pastoral scenes through a slide projector, then used a photo of Orin and a road sign to Claybank in order to plant a post-hypnotic suggestion: while driving, Liz would imagine seeing Orin standing in the middle of the road just past the sign to Claybank and was instructed to swerve her car off the road to avoid striking him. The location was a dangerous curve at the edge of a steep cliff from which Liz's stepmother Laura had driven to her own death six years earlier.

On March 19, 1973, Jessup's plan moved toward fruition. While driving to Claybank with Adam on the day of his wedding to Nicole, Liz envisioned Jessup's post-hypnotic suggestion and attempted to drive her car off the cliff, but Adam grabbed the steering wheel and managed to crash the car into a rocky area instead. Although Liz was uninjured, Adam suffered a serious concussion and had to delay his wedding. Tipped off by secretary Angela Morgan, who had fallen in love with Orin, Adam went to confront Jessup about his hypnotherapy sessions with Liz and managed to swipe one of the incriminating projector slides. Presented with this evidence, Orin, still lyal to elly Jo and believing her innocence, reluctantly agreed to remove her from a line of succession, instead leaving her a single monetary bequest. Meanwhile Jim performed hypnotherapy on Liz to erase any potential post-hypnotic suggestion left by Jessup.

However, Orin's bequest to Elly Jo now left his own life in danger. Desperate to hold on to Lenny, who was threatening to leave with a rich, older woman, she decided to kill Orin to get her inheritance. After poisoning his decanter of brandy with a drug bought from Jessup, she said her goodbyes at Claybank and accepted a ride to Kevin's apartment with Liz. But, the scenario was a trap contrived by Adam. Liz hid a tape recorder in the car and planned to trick Elly Jo into a confession by pretending to still be under Jessup's hypnotic commands. On the pretext of forgetting to give Orin his medication, Liz turned the car around and headed back to Claybank despite Elly Jo's hysterical protests. Fearing that Liz would drive them off the cliff to their death, Elly Jo jumped from the speeding car. She managed to survive the impact, but later died en route to the hospital - without knowing it had all been for nothing. The "poison" given to her by Jessup was nothing more than colored water.

---
---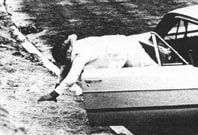 Elly Jo leaps from Liz Hillyer Fields' speeding car. April 30, 1973.

---
---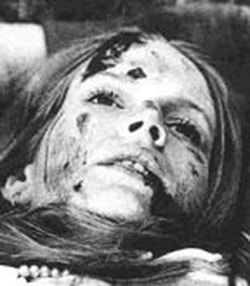 Elly Jo lies mortally wounded after jumping from Liz's car. May 3, 1973.

---
---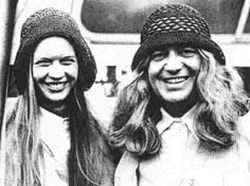 Dorothy Lyman (Elly Jo Jamison) with Joe Dismas, her stunt double for Elly Jo's jump.

---